Hyderabad is a beautiful city established in 1591, where Nizams ruled and thrived. Often known as the pink city, it has a treasure of history, lasting from about 400 years ago. It is a developed metropolitan city which can surely set you astonished by its modernity and provides a refreshing atmosphere to its tourists. Besides offering plenty of options to explore, the city is also known for its mouth-watering cuisines and rich culture.
Top 12 Places To Visit In Hyderabad
Here in Hyderabad, you can find many tourist places to enjoy with your family and friends.
Charminar:
The 'Arc de Triomphe of the East', is what Charminar is well known as. It is located in the old city and is the most crowded place for tourists. It was constructed in 1591 by Sultan Mohammed Quli Qutb Shah. Charminar is a square shape with four towers in each corner. The staggering height and breadth (56m and 30m) of this monument makes it more special.
The structure includes minarets on each side and a wonderful mosque on the top floor. You can find forty-five prayer spaces visited by hundreds of people, mainly on Fridays. Charminar is decorated with beautiful lights at night, which makes it look more glamorous and stunning.
Ideal duration: 45 minutes
Ramoji Film City:
Ramoji Film City is visited by people from all over the world. It is the world's largest film studio with a capacity of almost 50 film unit setups and also holds the place in Guinness World Records. This film city is spread across 2500 acres and is 30 km away from the main city area.
You get to see wonderful movie sets like a Japanese garden, London Street; Hollywood sign; and many others. So if you are a movie lover, a visit to this place is truly worth your time and money.
Ideal duration: 4 hours
Birla Mandir:
The temple was constructed by Birla industrialists and hence has acquired this name. Located on the hilltop of Kalapahad, this temple resides 280 feet high. This marvelous temple was built in 1976, using 2000 tons of white marbles brought from Rajasthan.
The architecture of the temples holds 3 styles Utkal temple Architecture, South Indian Architecture, and Rajasthani Architecture. The eleven feet tall statue of Lord Lakshminarayana is the major highlight of this temple.
Ideal duration: 45 minutes
Golconda Fort:

This fort was constructed by Qutub Shahi kings and is situated 11 km from Hyderabad. The fort has huge and tall walls kissing the sky with 15 to 18 feet, which spreads along 11 km. Ramdas' prison and 'Rahban' cannon are the important assets of this fort, as they hold historical value.
The fort also has the best light and sound shows played in Hindi, English, and Telugu language.
Ideal duration: 2 hours
Hussain Sagar Lake: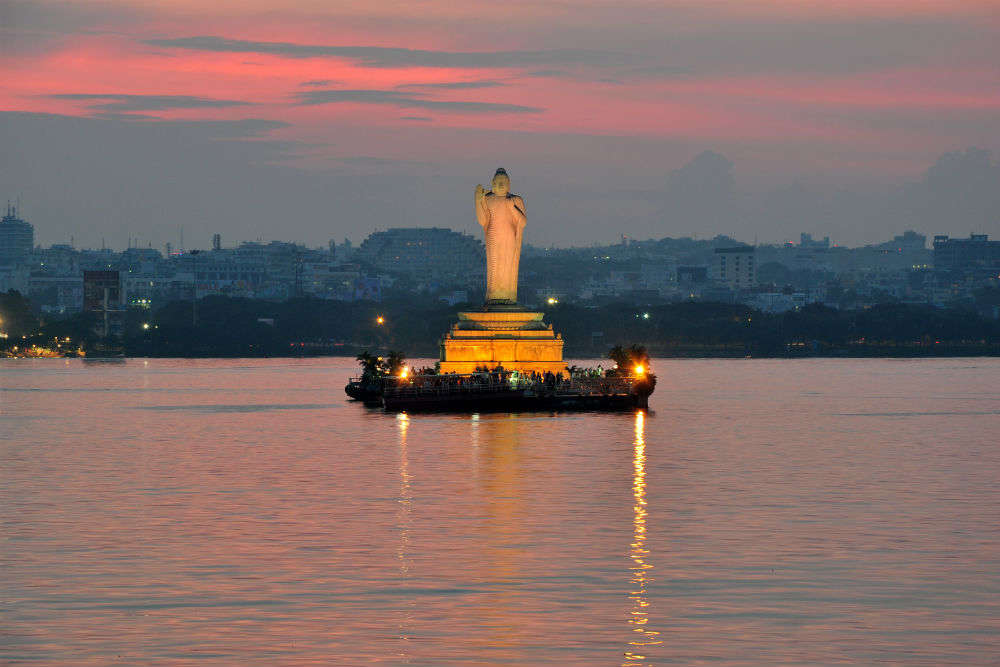 The main attraction of this spot is the statue of Buddha, which weighs around 350 tons. The statues stand right in the middle of the lake, and the ferry ride can take you there. This lake was named after Hussain Shah Wali.
In entire Asia, Hussain Sagar Lake accounts for the largest artificial lake. Here you can enjoy parasailing, cruising, motorboats, and water-skiing.
Ideal duration: 45 minutes
Jala Vihar: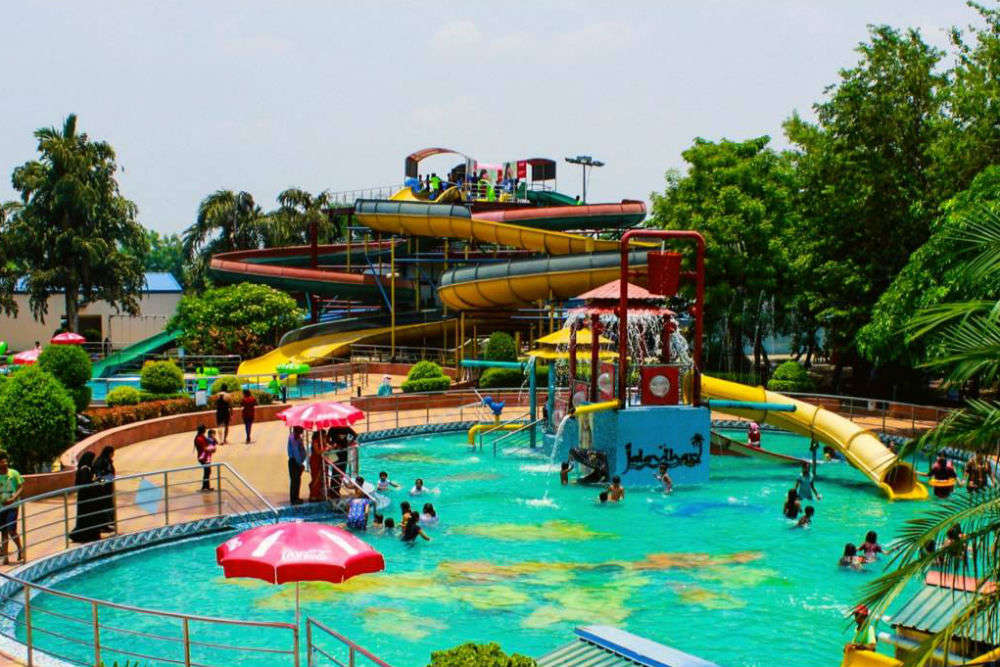 Jala Vihar is a family entertainment water park located at the necklace road. You can enjoy various water activities, including Mushroom Umbrella, River ride, Family slide, Pendulum, Mini aqua trailers, Tilt bucket, Float slide, etc.
For people who are water phobic can choose from Battery bikes, Mini train, Mini Coarsely, Battery cars, Super-Jet, Mini rainbow wheel, Basketball, Air hockey, Bungee Trampoline, Water shooter, etc.
Ideal duration: 2 hours.
Snow world:
Located on Lower Tank Bund Road, this popular tourist attraction is regarded as India's first snow-themed park. Spread over 17,000 square feet, this snow world is created by Ocean Park Multi-Tech Limited.
You can enjoy ice boarding, ice skating, toboggan rides, snow slides, etc. The beautiful view of igloos, along with alpine trees, polar bears, and penguins, in the cryo zone of the snow world, is mesmerizing.
Ideal duration: 2 hours
Laad Bazaar:
Shopping is an irresistible thing when we travel. And Laad bazaar offers the best shops and products which you can hardly ignore. Laad Bazaar is located right beside Charminar and hence gains more attraction from tourists.
"Laad" means Lacquer, and hence this place offers varieties of bangles that are made using Lacquer. You can also find clothes with embroidery and zari work along with semi-precious jewelry and pearls. Grab Fab Hotels Coupons from us to bring good discounts.
Ideal duration: 1 hour
Chilkur Balaji Temple: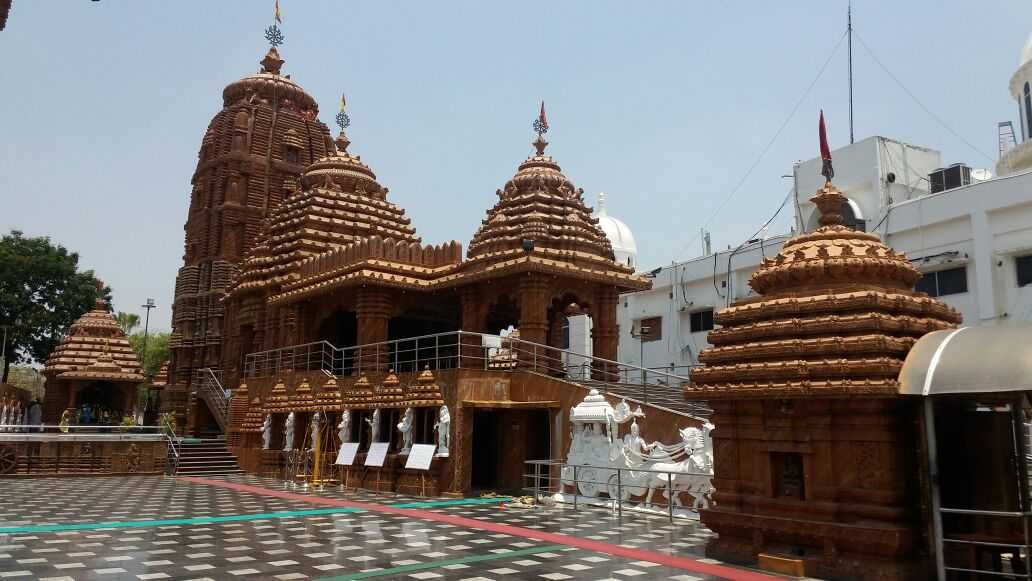 The temple is built for worshipping Lord Balaji Venkateswara along with his wives Sridevi and Bhoodevi. Located 30 km from the main city, in a small village Chilkur. The temple resides on the bank of Osman Sagar Lake and is popularly known as Visa Balaji Temple.
It is a legendary temple that is 500 years old. Hundreds of devotees visit this site every day, offering 108 Pradakshinas.
Ideal duration: 1 hour
Nehru Zoo Park:
Started in 1963, this park is located near Mir Alam Tank. The zoo is spread over 380 acres and is a dwelling place for 1500 species of animals, birds, and reptiles. This park accounts for the largest zoo in India. Lion safari, tiger safari, bear safari, and butterfly safari are the ones that you can enjoy here.
Ideal duration: 3 hours
Chowmahalla Palace:
Chowmahalla is an Urdu word which literally means "four palaces". It was built during the Afzar-ud-Daulah period during the 18th century. The palace is composed of the northern courtyard and the southern courtyard. Tahniyat Mahal, Afzal Mahal, Aftab Mahal, and Mahtab Mahal are the highlights of the southern courtyard.
Roshan Bungalow, Clock Tower, Khilwat Mubarak, Council Hall are other spots of attraction. You can book or rent a car from Zoomcar and explore the city by yourself. Do remember to use your Zoomcar promo code for a discount.
Ideal duration: 2 hours
Qutub Shahi Tombs:
This is the oldest heritage site found in Hyderabad and consists of tombs of seven Qutub Shahi rulers and is located just 850 m away from Banjara Darwaza. This architectural marvel depicts Persian and Indian architecture and is carved using grey granite. This is one of the famous venues for Deccan festivals.
Ideal duration: 1 hour
Often compared with New York City, Hyderabad has the best places for sightseeing. Cultivated and treasured by Nizams, this place offers you amazing tombs, gardens, ancient temples, glorious shopping lanes, national parks, artificial lakes, and much more.
But before you visit Hyderabad, make sure you list out the important places so that you won't miss anything and then regret it. Never miss out on Hyderabadi biryani as none other biryani can beat it in the entire world. Read about my 10 best travel tips after 9 years traveling the world.